May 23rd, 2017
September 18th, 2016
Let's get positive for a few minutes. Let's talk about some things that make me happy. Things that are worth liking. Sunshine, lollipops and weirdness. The glory of love.
This cut off Lou Reed's 1978 live album "Take No Prisoners". The whole album he keeps interjecting asides, like he's breaking the fourth wall on his own songs. It's ridiculous. On "Walk On The Wild Side" the band plays for seventeen minutes and he barely covers the first third of the song. He does that on "Coney Island Baby" and it works better. The best part is the last few minutes when the band is surging to a climax and Lou sings so hard he's unintelligible. Stallone-level elocution here. It's beautiful.
We need to appreciate The Eric Andre Show while it's still here. Four seasons of this show and it's not only still on the air, it's successful enough to merit a live nationwide tour. Eric Andre has a cult following of kids who want to "legalize ranch", "bird up", and "investigate 311". The bread and butter of the show is the interviews with celebs, oblivious to what they are getting into end up in a psychological Gitmo TV production. If you're lucky, you might get to see Kraft Punk, the cheese-helmeted suit-clad prankster.
Joanne The Scammer is my newest fave. Through Twitter and Superdeluxe, this character has become a cult figure. . . honestly, truly. Iconic. A messy bitch, problematic and proud of it. Combining shameless behavior with inspirational wisdom ("Only help women. Only scam men."), Joanne is hilarious and reflects the unfairness of the world we live in. . . so get yours. You can be a beautiful Caucasian woman, too. Even if you are a black-latino male named Brendan. Especially such. Honestly. Truly.
Finally, we come to Scharpling and Wurster, the comedy duo behind "The Best Show". This has been my favorite podcast of the last year or so. The Best Show was on WFMU from 2000 to 2013 then returned at the end of 2014 and has gotten stronger, with celebrity and musical guests, weird topics, host Tom Scharpling's banter with callers both good and awful, and the chemistry he has with Jon Wurster who calls in as a variety of strange characters. I've included a clip of them together as a fine example, where Wurster calls as the obnoxious singer of a Nickelback-esque butt rock band touring corporate free festivals ("The Vanilla Coke Garden Party", for one) doing a phone interview.
There's four things I like. Four things you might also like. And I didn't once mention wrestling. 
October 27th, 2013
I wanted to write about my wonderful weekend in Asheville, but that will have to wait. Lou Reed has passed on.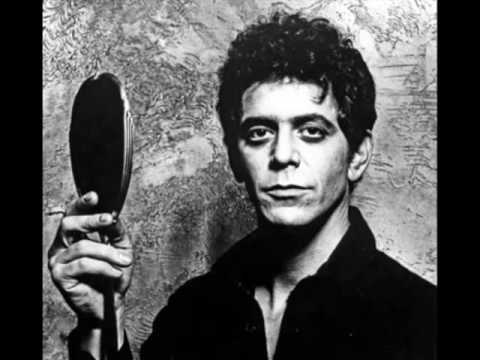 Lou Reed, the principal singer in the Velvet Underground, a band that had profound impact on the high-I.Q., low-virtuosity stratum of alternative and underground rock around the world, has died, his literary agent, Andrew Wylie, said on Sunday. He was 71.

…

"He died peacefully, with his loved ones around him," Dr. Charles Miller, Mr. Reed's liver transplant doctor, said.

Mr. Reed was in Ohio earlier this week for treatment at Cleveland Clinic, the hospital where he had liver transplant surgery, Dr. Miller said. But he decided to return to New York after the doctors could no longer treat his end-stage liver disease.

"We did everything we could," said Dr. Miller, the director of the hospital's Transplantation Center. "He really wanted to be at home.
I could post clips of Lou Reed's music but luckily a lot of other people are doing that right now. "Perfect Day" is currently being used in a commercial for a video game console. The double-shot excellence of Transformer and Berlin. The fish-out-of-water arena-rock of Rock 'n Roll Animal. The pure middle finger of Metal Machine Music. The sentimentality of Coney Island Baby. Street Hassle is the most New York album I've ever heard, except for nine or ten other Lou Reed albums. The speedfreak humor trip of Live: Take No Prisoners (where Lou plays "Walk On The Wild Side" for fifteen minutes while describing how he came to write the lyrics in great detail as the band vamps behind him).
I just described ONE DECADE of music the guy made, and I missed a few spots. There are four other decades of music that I didn't sum up and one them includes the Velvet Underground who influenced ALMOST EVERY BAND THAT CAME AFTER THEM.
If you think this will be the last time I write about Lou Reed, you are sorely mistaken. Frank Zappa has been dead for twenty years and I still write about him. They both had chrome-plated giant balls to do the music they did in the time they did it. We've got a long time to examine the body of work that has been left behind now.
Okay, I'll post a song. "Junior Dad" from Lulu, the 2011 album he made with Metallica. His last album, the final track on the album. That album has been mocked by a lot of people (including me) but I did like this track. The fact that he could pull this kind of thing out of Metallica is some sort of miracle.